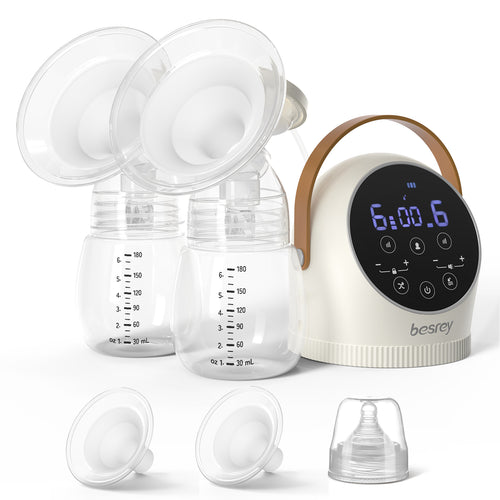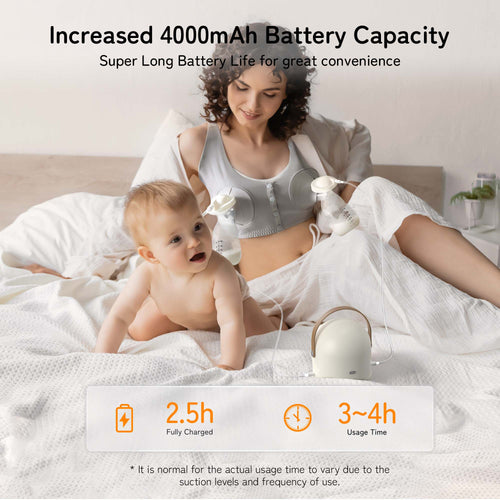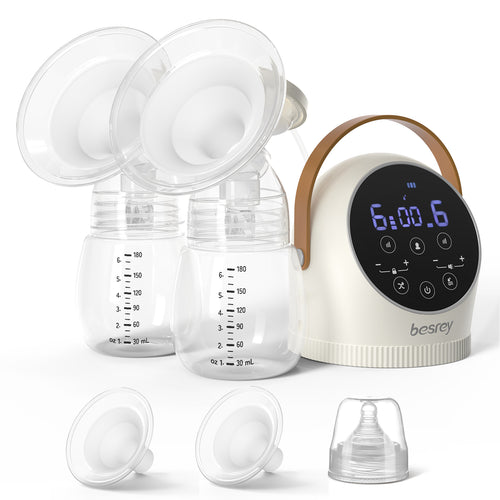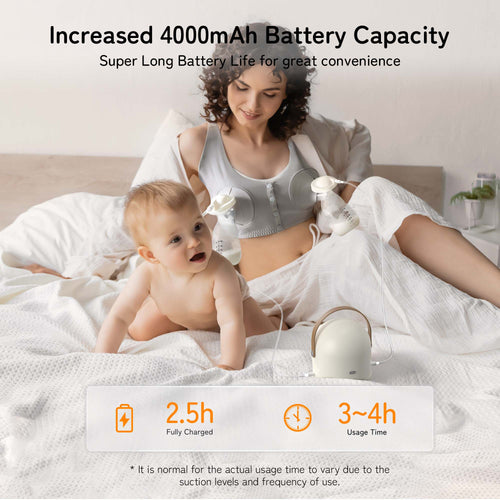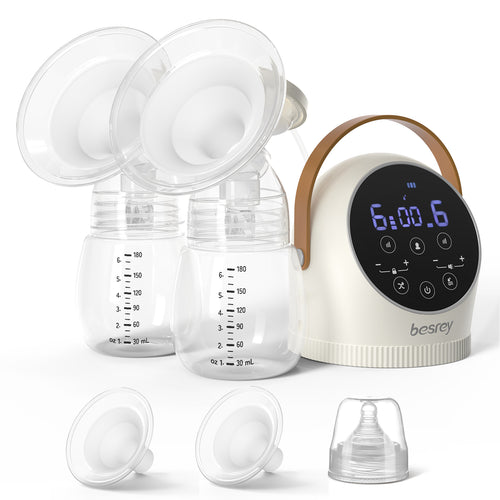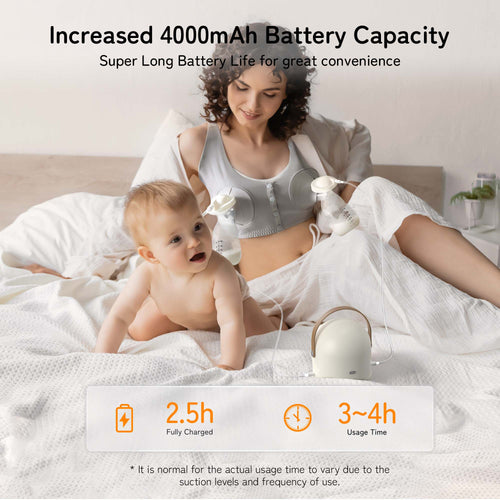 Besrey Double Electric Breast Pump, Separate Double Pump with 3 Modes & 9 Levels
Besrey Double Electric Breast Pump, Separate Double Pump, Strong Suction Breast Pump with Night Light, 3 Modes & 9 Levels, Comfortable Efficient Pumping, Touchscreen, Customizable, Silent, Pain-Free
$81.69 USD
Regular price
$116.69 USD
Sale price
Unit price
per
Effortless & Efficient Pumping: The Besrey Double Breast Pump has 3 modes and 9 suction levels to ensure the most comfortable and efficient flow of breast milk (Stimulation, 2-IN-1, and Expression). This research-based separate double pump design enables mothers to customize the pumping process to produce more milk in less time.
Single or Double Pumping: Designed for flexibility, with separate modes for suction strength and suction speed, moms can easily switch single or double pumps to their needs. When you're in a hurry, the separate double pumps with powerful and stable suction allow you to pump more milk in less time.
Hassle-free Night Pumping: With a user-friendly built-in soft night light design and 2 brightness settings, combined with the silent mode, you can pump easily at night without disturbing your baby.
Easy & Convenient Operation: The Double Electric Breast Pump has a touch LED display screen with a sensitive touch panel that displays all of the detailed information for a more comfortable pumping experience. Furthermore, the new user mode option saves the pumping process for easy and convenient pumping the next time.
On-The-Go Pump: The built-in 4000mAh rechargeable battery and USB-C technology allow you to pump for up to 4 hours after fully charging without needing to plug in anywhere and at any time, making it ideal for travel and outdoor emergency use.
Minimal Noise: The Besrey Breast Pump adopts innovative pumping technology to produce a smooth vibration and low noise (less than 45 dB), ensuring that the baby's sleep is not disturbed. While pumping, the double electric breast pump provides a comfortable and quiet environment for both babies and mothers.
Comfortable for Mom: Comfortable, soft silicone shields fit your breasts, making electric breast pump breastfeeding more comfortable and allowing you to care for your baby with the optimal nutrient balance found in breast milk.
Buy on the Besrey Store for

Fast, Free Shipping

30-Day Money-Back Guarantee

18-Month Hassle-Free Warranty

Lifetime Customer Support
Highlights
Specifications
User Manual
Customer Reviews
FAQ
Besrey Double Electric Breast Pump
Besrey upgraded with a separate double pump, the powerful & stable suction to produce more milk in less time. The besrey double electric breast pump features different modes for suction strength and speed (3 modes & 9 suction levels), allowing you to customize the pumping progress for comfortable pumping. And significantly quieter and easier to use, it makes you not worry about waking your baby when pumping during a nap or bedtime.
Multiple Closed System
Closed system design with overflow protection to prevent breast milk from entering tubing, adding reassurance and peace of mind.
Replaceable Flanges
Come with 21/24mm different sizes of flanges to fit perfectly with your breast and prevent leak milk. You can flexibly choose different sizes for personalized comfort.
Soft & Safe Food-grade Silicone
All parts are made of 100% food-grade silicone, which is BPA-free, non-toxic, and dishwasher-safe. They are safer for both mothers and babies. Tips: Wipe the pump unit only with a clean, damp but not dripping cloth.
Suction Cycle
3 Cycles (Slow/Middle/Fast)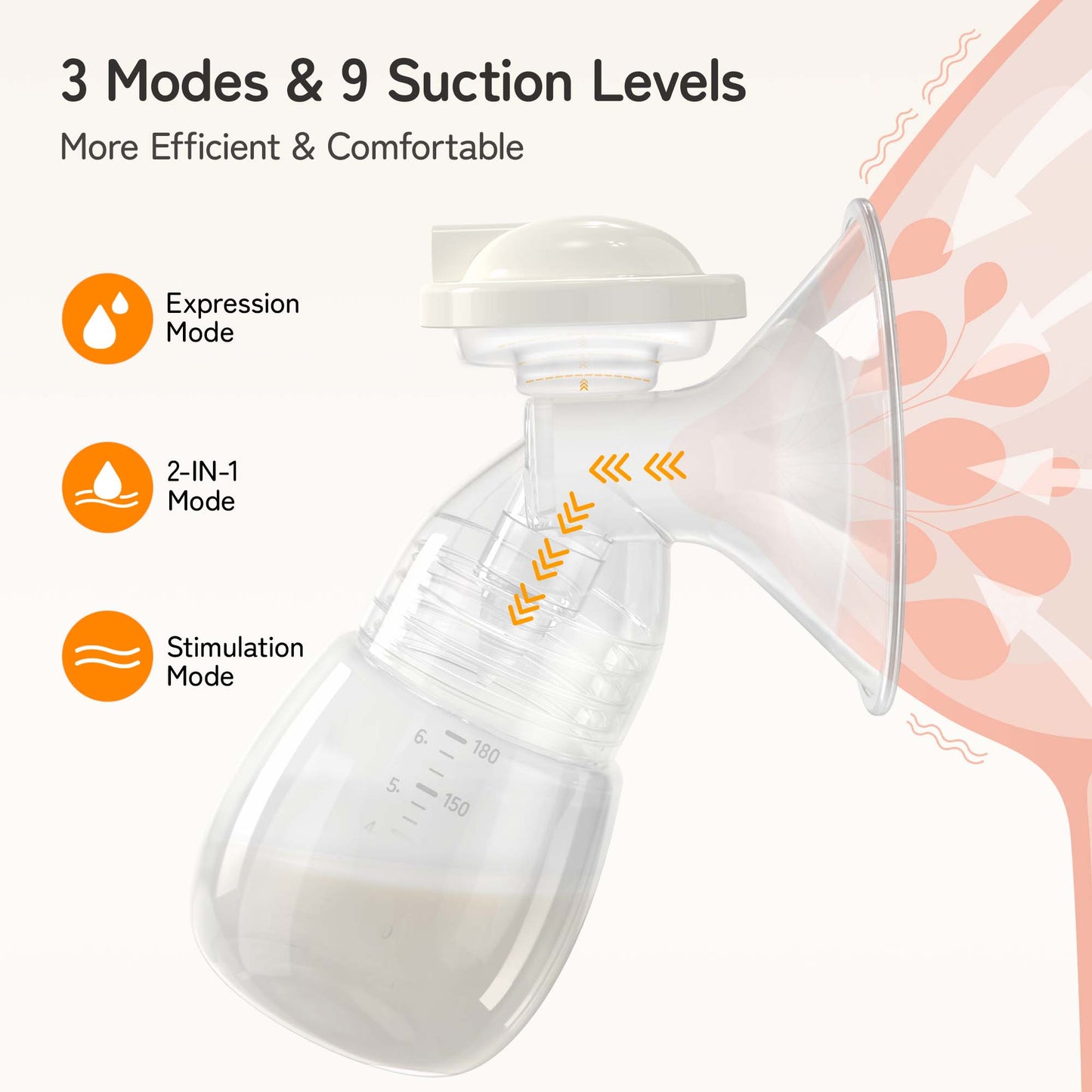 Purchase
Specifications
User Manual
Reviews
FAQ