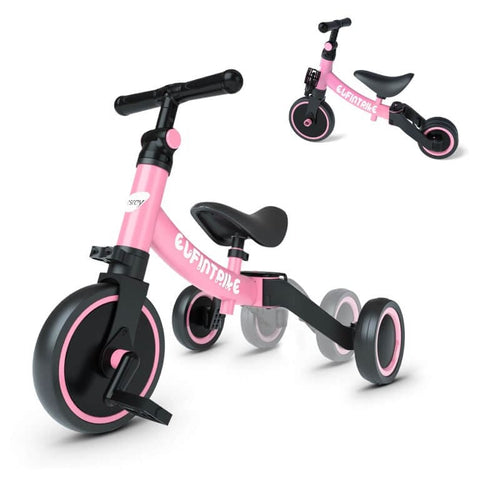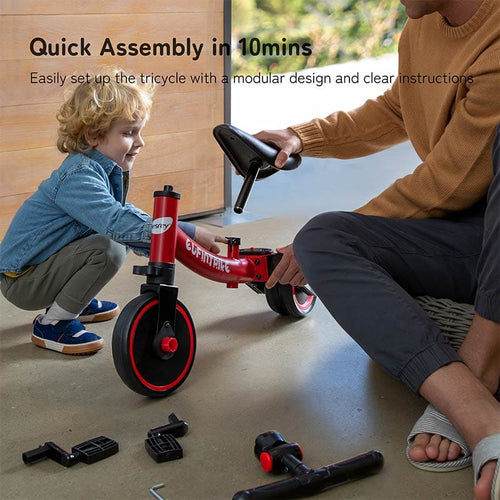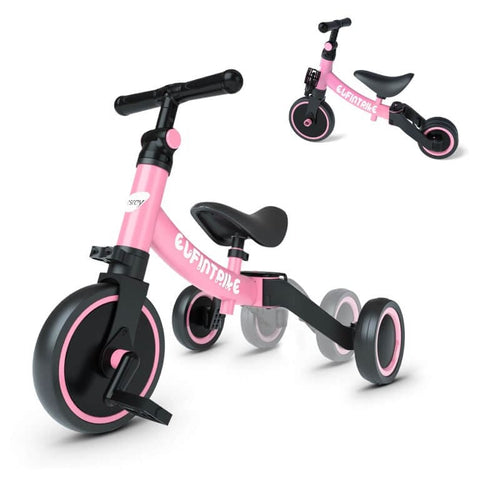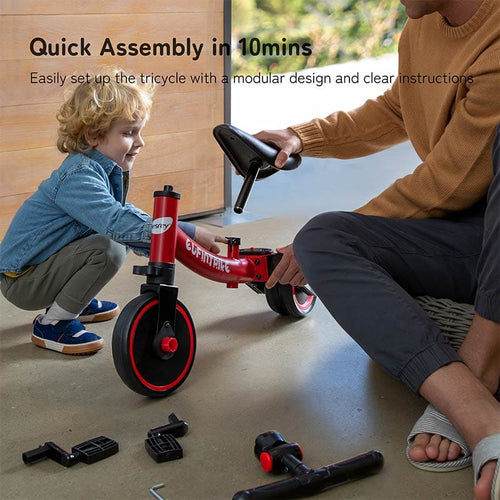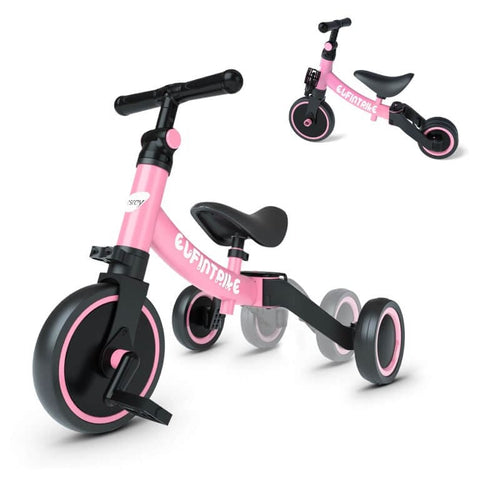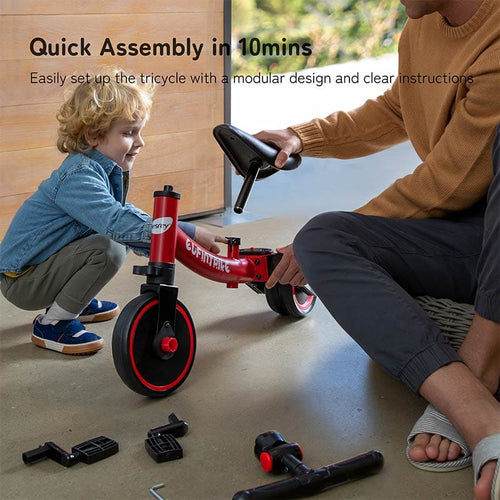 Besrey 5-in-1 Toddler Tricycle
5-in-1 Kids Tricycle, Wide Age Use,Curved Carbon Steel Frame Structure, Easy to Install & Use,The limited 120° steering, No Edge Design, BR-C727S
$59.99 USD
Regular price
$89.99 USD
Sale price
Unit price
per
3-Mode Tricycle: The 5-in-1 kids tricycle features 3 modes: sliding, pedaling, and balance bike. It helps your kids learn balance, steering coordination, pedaling, and riding.
Suitable for 10m-4yrs Old: The tricycle for kids offers an adjustable handlebar, curved tubes. Its seat height is 11.8-15.4 inches (1.2" higher than others). It is suitable for kids ages 10 months or 4 years old.
Sturdy & Durable: Three-point triangle structure provides stability. It has durable carbon steel frame and fully enclosed EVA foam wheels. Kids can ride this baby tricycle around various surfaces.
Easy Assembly: Easily set up the tricycle for kids in just 10 minutes.
Quick Mode Switch: The baby tricycle can be changed between the 3 modes. You can switch modes by pressing a button and locking the fork angle between the 2 rear wheels.
Ride with Comfort: PU-covered, ergonomically designed saddle provides maximum comfort. In contrast, the rubber handlebar offers an anti-slip grip. The rear wheels' smooth bearing reduces resistance when riding.
Buy on the Besrey Store for

Fast, Free Shipping

30-Day Money-Back Guarantee

18-Month Hassle-Free Warranty

Lifetime Customer Support
Highlights
Specifications
User Manual
Customer Reviews
FAQ
Why you'll love it
If you're looking for tricycles for toddlers, this Besrey 5-in-1 tricycle is the best trike for kids.
This Besrey children tricycle is made of durable carbon steel. It has a stable triangle frame structure allowing for safe riding.
You can assemble it effortlessly by following the instruction guide in the package.
You can easily switch it between 3 bike modes — sliding, pedaling, and balancing — by pressing a button. The smooth bearing of the rear wheels reduces resistance when riding.
The fully enclosed EVA foam wheels enable your kids to navigate various surfaces. A PU ergonomic saddle and non-slip rubber handles offer children a stable and comfy ride.
Features:
Best tricycle for toddlers aged

10m-4yrs Old

Unique curved tube design

Stable triangle structure

5 adjustable handlebar angles

3.54" seat height adjustment range

Tool-free assembly in just 10 mins

Durable frame & EVA foam wheels

Lightweight & portable kids tricycles


Entended Use
This push trike for toddlers helps kids from 10 months to 4 years old learn to walk, steer and balance to build their confidence.
Comfy Gliding & Riding
As your child grows and seats higher, they will have the same comfort of gliding and riding on this big wheel tricycle.
Overturning Protection
The steering of the handle is limited to 60° to prevent accidental overturning and the child falling off the bike.
More Seat Adjustments
There is a broader saddle height range of 11.8-15.4" on this 3-wheel bike for kids to fit at different heights.
Smooth & Safe
The PU leather seat surface feels comfortable and is long-lasting. The modular design of the child tricycle features fewer joints and sharp edges, keeping your kids safe and secure.
Tool-free Mode Switching
Effortlessly switch between the 3 modes by changing and locking the angle of the 2 rear wheels and attaching/removing pedals at the press of a button.
Material
Carbon steel, EVA, PU
Product Size
23.62x17.72x18.11in/60x45x46cm
FAQ
Is this product easy to assemble?

Yea,it is easy and I'm the worst at assembling things!

Can you use pedals in 2 wheel mode?

Yes.My son is riding using 2 wheels and it works perfectly fine.

What is the wheel material, will it hold up to use on the street?

Yes

Are the wheels hollow or solid?

Hello,our wheels are solid EVA foam wheels.

How can I buy replacement pedals?

Pedals dimensions are very common and can be find easily anywhere from amazon to walmart.

Will a taller then average 2year be able to use this bike till 4yeqrs of age?

I've got a 3 year old grandson that hasn't figured out the peddles. I wouldn't think a 2 year old is ready.

Where can I get replacement pedal for this bike?

I would imagine from the manufacturer.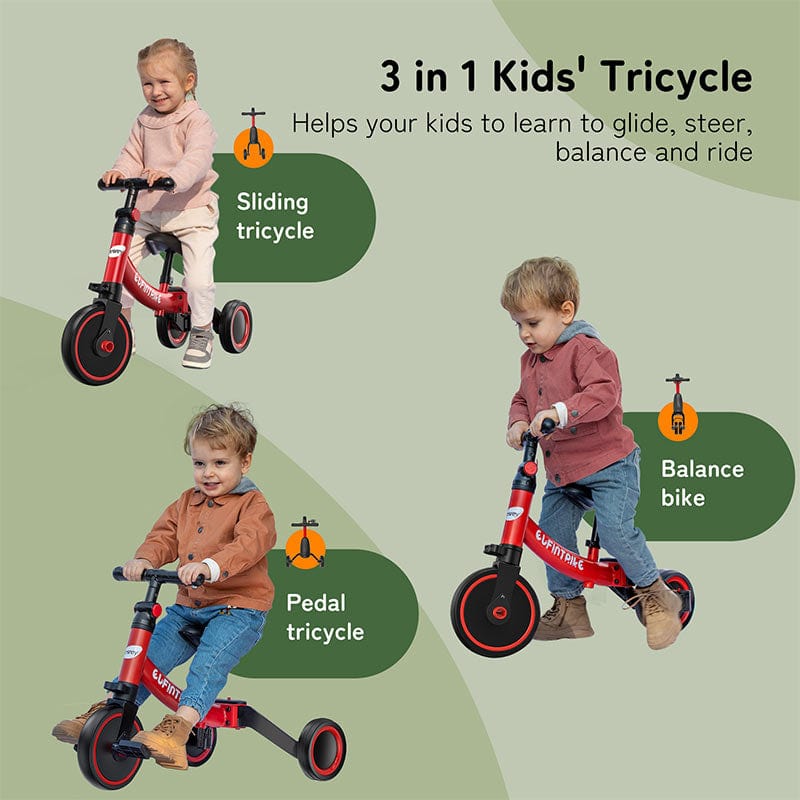 Purchase
Specifications
User Manual
Reviews
FAQ