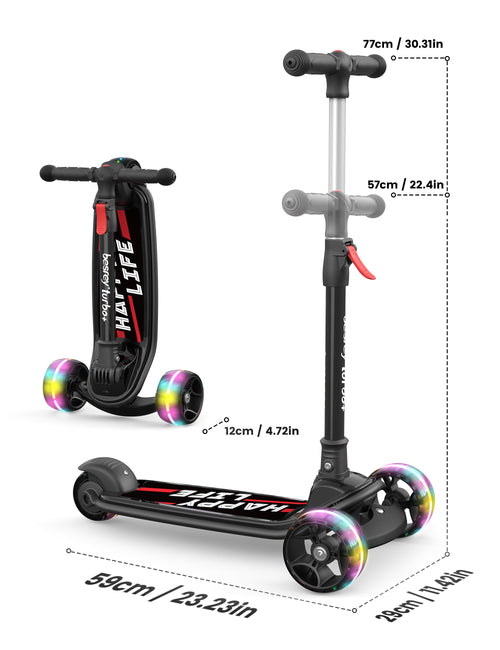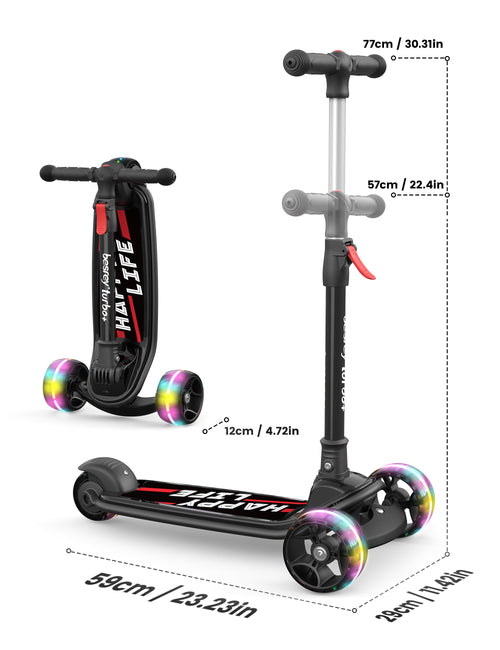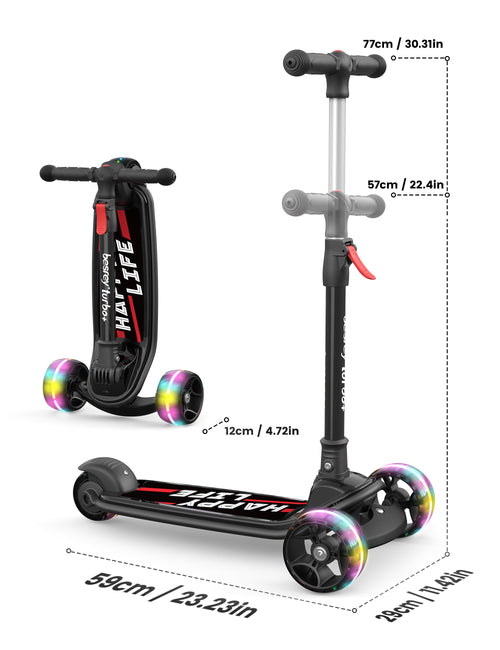 Besrey Folding Toddler Scooter 3 Wheels
Toddler Scooter,4-Level Adjustable Height,Flashing LED PU Wheels,Lean-To-Steer Technology,Extra Wide Deck For Stability,Lightweight but Sturdy,BR-K402S
$69.99 USD
Regular price
Sale price
Unit price
per
4-level Adjustable Height Easy-grip Handlebar: Besrey toddler scooter is designed with an adjustable TPR handlebar, and the handle height offers 3 adjustments, which can be adjusted from 22 to 30 inches. T-bars with secure lifting and twisting locks provide more safety and durability than old-style collar clamps. Recommend age: 3-8 years old.
Easy Lean-to-Steer Technology: This 3-wheel scooter features a simple pivot-turning system, and you can easily control the turning and balance by your physical incline. It allows kids to control their scooters better while improving their balance and coordination to build their confidence and improve their riding skills.
Fun LED Light-up PU Wheels: The kid scooter equips 3 durable LED wheels, which are motion-activated to brighten up the embedded LEDs with the crease of rolling speed while gliding on the road. The LED light-up wheel technology enamours little ones. The flash of rainbow colours is both an exciting attraction to kids and a boost to safety and security.
Safe, Sturdy and Smooth with Extra Wide Deck: The best toddler scooter has an expansive non-slip deck of 12.6*5 inches, providing roomy space to accommodate both feet. Innovative and integrated design on the surface and the bottom of the foot deck can carry up to 110 lbs. Reinforced axle bearings, 3 wheels and well-built parts allow the scooter to run steadily and safely.
Lightweight and Easily Folding: As a scooter created for kids, the Besrey scooter's weight is only 6lbs and be folded up in seconds, making picking up and carrying it easy to play on the go. The best toddler scooter is the perfect gift from parents for their little ones. Scooter for kids aims to supply high-quality products to make every youngster enjoy the pleasure during their play, and you deserve it.
Buy on the Besrey Store for

Fast, Free Shipping

30-Day Money-Back Guarantee

18-Month Hassle-Free Warranty

Lifetime Customer Support
Highlights
Specifications
User Manual
Customer Reviews
FAQ
Why Choose the Besrey Scooter?
The Besrey 3-wheel scooter for toddlers offers safety and stability for beginners. The lean-to-turn design gives new riders stability to build their confidence and improve their riding skills. The toddler scooter has 2 large LED front wheels and 1 small LED rear wheel. This unique luminous 3-wheel design will not only stimulate the sporty nature of children, which makes them have more fun while playing but also ensure the safety of night travel. With 4-level adjustable height, this scooter will accompany your children through a happy childhood!
Features:
4-level height adjustment as they grow

Smooth and quiet "lean-to-steer" fun ride

PU Luminous 3 Wheels, Wear-resistant, slip-resistant wheels

TPE non-slip handle, good texture

Product weight: 6 pounds, maximum load: 110 pounds

Rear-wheel fender brake for safe and speedy stopping

Portable and foldable

Be seated and rideable, used efficiently for children
Flash Wheels Fun Riding Experience
The best toddler scooter has 2 large LED front wheels and 1 small LED rear wheel, which ensure the best driving pleasure for your child and improve the safety of night travel. It can adapt to almost any terrain.
Little Movers Especially for Children
The weight of the Besrey scooter is only 6 pounds (2.8 kg) but is sturdy enough to hold up to 110 lbs, which significantly improves the convenience of travel and allows your little adventurer to go on an outdoor adventure anytime and anywhere.
4-Level Adjustable Height
The Besrey scooter with 4 adjustable T-bar heights from 22.44 inches to 30.31 inches accommodates children as they grow. Recommend age: 3-8 years old.
Safety Reinforced Rear Brake
The flexible and controllable reinforced rear fender, which also works as a brake, covers the entire back tire for a reliable stop. It guarantees the best riding pleasure while ensuring your children's safety and scooters' safety.
One-click Foldable and Portable
Pull the rocker switch up, then fold down the T-bar. The Besrey kid's scooter can be folded into a 10 inches slim shape that is easy to take with you anywhere. Perfect for travel and easy to store.
Golden Iron Triangular Stability
The triangular structure of the 3-wheeled scooter provides excellent stability for your kids to glide safely, stably and smoothly, lets your child go out and have fun with others, and practice outdoor sports from childhood. The widened deck offers double security.
Item Package Dimensions L x W x H
24.13 x 12.52 x 6.26 inches
Package Weight
3.21 Kilograms
Item Dimensions LxWxH
23.23 x 11.42 x 10.24 inches
Suggested Users
Boys, Girls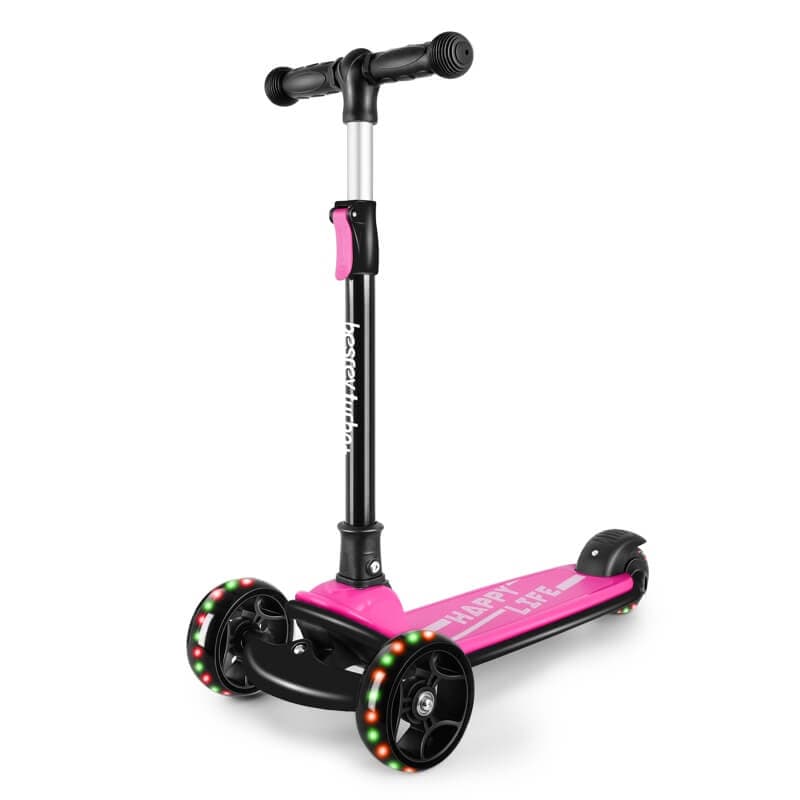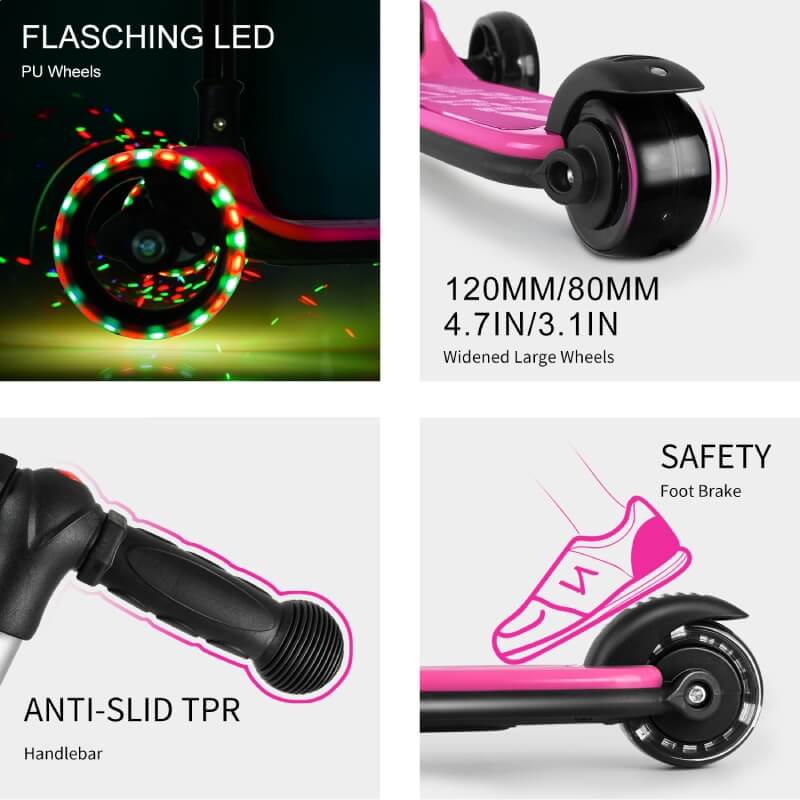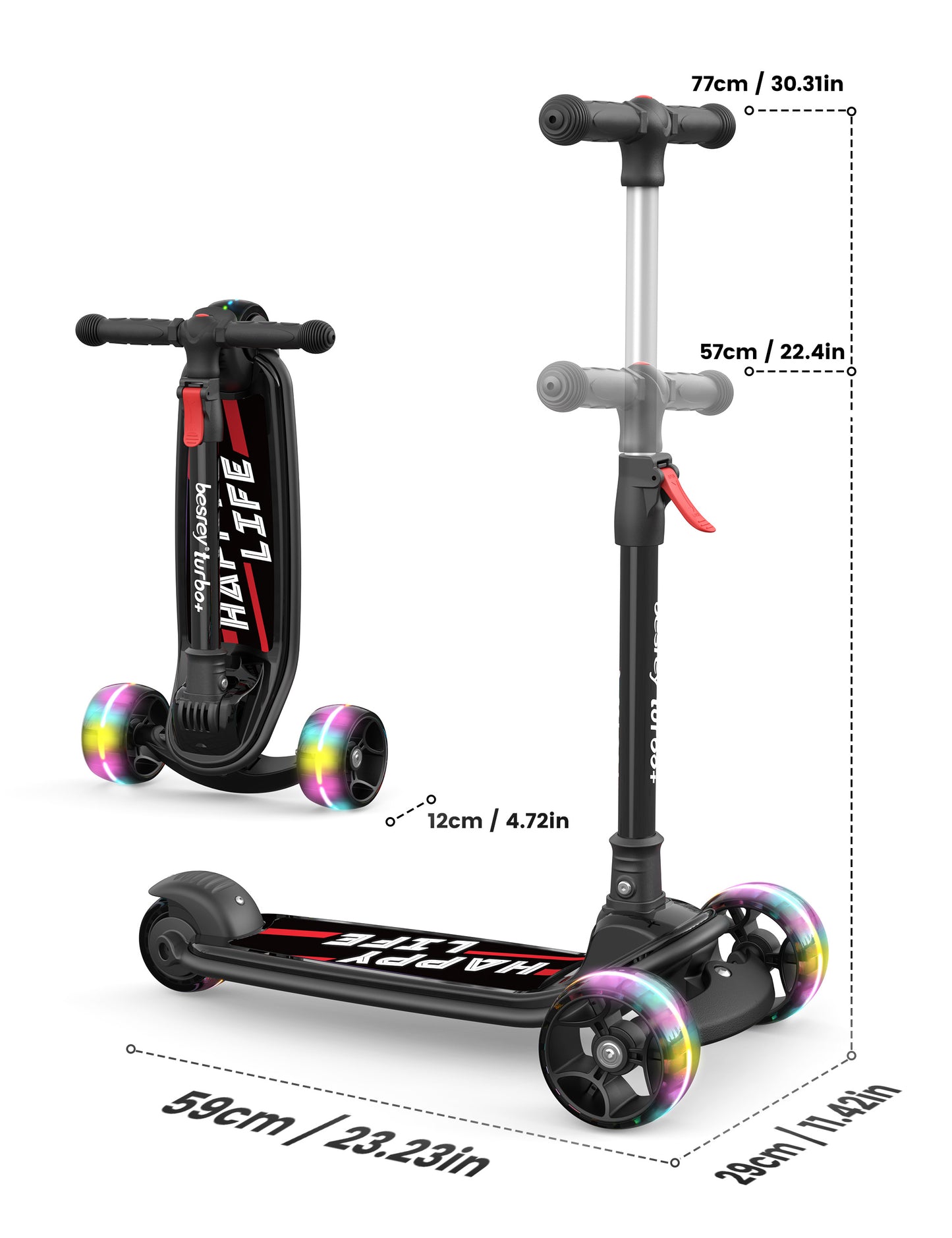 Purchase
Specifications
User Manual
Reviews
FAQ