Do you know this? In the first 6 months of life, the incidence of hip dysplasia is lower when the baby is carried by the mother and the hips are spread around the mother's torso by a wrap or sling. Therefore, choosing a suitable baby carrier is vitally important for the sound development of the baby's hips.
The reasons why people choose to buy baby carriers:
First and foremost, in the first six months of the baby's life, the hips develop rapidly when preparing to crawl and walk, so good hip development can promote the baby to walk quickly and maintain a good shape development, It is also beneficial to the development of the baby's spine.,the newborn's spine is C- shaped, so it is necessary to support the baby's entire spine when holding the baby.

The use of a baby carrier simulates the uterine environment and helps the baby smoothly complete the transition from fetus to baby. In the strap, the temperature is very suitable, the baby can get close to the mother's body and hear her heartbeat and other body sounds, Which promotes physical intimacy and intimacy between the caregiver and the baby.

More importantly, it makes the baby feel as tightly wrapped as he does in the womb. That's why a lot of babies get in the harness and soon fall asleep because they feel so comfortable.

Convenience: Baby carriers allow parents or caregivers to keep their hands free while still keeping their baby close. This can be especially helpful when performing tasks such as shopping, doing household chores, or simply wanting to have the baby close for bonding and comfort
How to pick the right baby carrier?
Whether the strap is M-shaped support for the baby's hips and thighs.The baby's legs should be M-shaped, the thighs are separated by at least 90 degrees and are in a relaxed state. The position of the knees is parallel to or slightly higher than the buttocks. Besides, the thighs and buttocks should be effectively supported and even strenuousessed.

Here shows the right position:

The harness should give the baby's entire spine and cervical spine effective support.

Whether the strap will carry the baby's stress.

Evenly distributed over the entire back of the parent. There is also a very important difference between cheap and expensive straps, that is, whether the stress is well done. If you carry a bad strap for a while, your baby will either have backache or backache. The well-done harness is ergonomically perfect and can evenly distribute your baby's weight on your back.

Whether the strap uses a safe and breathable fabric material.
Knowing the above information, how to choose the appropriate baby carrier according to your baby's age?
For the newborn and infant stages, it is important to choose a baby carrier that provides good head and neck support. The carrier should have an adjustable head and neck support section that fits the size of your baby's head and provides adequate support. Choose a carrier that fits your baby's chest snugly against your chest to keep the newborn's head and neck stable
The besrey baby carrier is designed ergonomically to allow your baby to sit in an "M" shape with your baby's hips spread so their legs are straddling your body for a healthy hip positioning to prevent hip dysplasia
Its integrated design with many practical features keeps your baby close to you while having your hands free to do chores, work from home, or do what you love
Besides that, with multiple extra pockets on the baby carrier,  you can easily store your carry-along stuff with you.
The introduction of Besrey baby carrier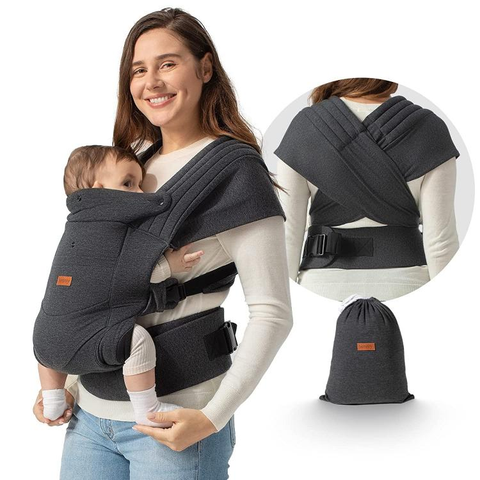 Features:
Newborn carrier: Fits babies 0-18 months, 7-25 lbs
High-quality fabric ensures a snug fit and support
Hands-free: A versatile way to carry and explore with baby
Custom fit: Padded shoulder straps and supportive waistbelt
Ergonomic design for comfort (padded shoulder straps & supportive waistbelt
With the improvement of the baby's head and neck control ability, you can consider using a baby carrier with less support. When the baby starts to walk and gradually walks independently, you can choose the style that the strap is designed to be carried on the back. The strap should have a suitable shoulder strap and waist belt to distribute the weight of the baby and reduce the pressure on the back and shoulders.
Here comes Besrey's DE001 baby carrier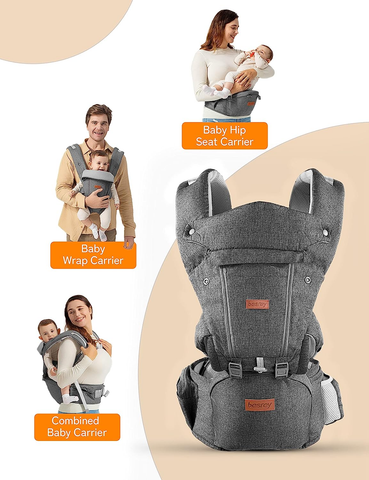 Features:
Converts into hip seat, wrap, or combined carrier with 9 positions
Free your hands: Quick-release buckle and easy-adjust safety strap
Custom fit: Padded shoulder straps and supportive waistbelt
Well-padded straps and lumbar support for comfort
Premium wear-resistant positive ion oxford cloth
Relieve back pressure design
The wide&supportive waist belt with an extra lumbar support, thickened-padded shoulder straps, plus with wide hip seat better distribute your baby's weight over both shoulders and around your waist, so as to reduce back stress.
Suitable for 4-36 months, the DE003 baby carrier combines all essential features in one light carrier with 6 ergonomic positions for 360-degree carrying, it allows you to move around freely while keeping your little one close.
Features:
6 ergonomic positions for 360-degree carryings
Constant ergonomic support as the baby grows
Increased safety and comfort- padded head and neck support
Ergonomically designed with a wide padded seat and hip support
Made with global safety standards and approved chemical-free materials
In conclusion, finding the suitable baby carrier for your little one is an essential decision that can greatly enhance the bond between you and your child while providing convenience and comfort for both of you. By considering important factors such as safety, comfort, versatility, and your lifestyle, you can make an informed choice that meets your needs and preferences. The right baby carrier can be a wonderful tool that allows you to keep your little one close while freeing up your hands and enabling you to navigate daily activities with ease. So take your time, explore your options, and enjoy the beautiful journey of babywearing with your little one.